"I'm excited to add Tuttle Twins books as one more resource in our home library to help my children learn to love the world in ways that are sustainable and do not cause harm."
Schools Don't Teach These Ideas… But Now You Can
A dumbed-down curriculum leaves out economic and civic truths that your child needs to learn.
Are you doing your part to teach them?
For a limited time, get the series at a 35% discount!
We'll even throw in our companion PDF activity workbooks—a $55 value—for free!
I've been in your shoes. So I wrote a series of books to teach your kids what their schools no longer do.
As the president of two non-profits, I've learned the importance of simplifying complex ideas so others can understand. And this approach works perfectly when it comes to children.
I've written a popular series of children's books that helps kids age 5-11 learn the ideas of liberty. But be prepared: your dinner conversations are bound to be much more interesting!
100% satisfaction, or your money back.
Proudly Serving 250,000+ Families
Our books educate, motivate, and inspire.
"For years, I hoped to find books like these. My frustration finally ended when I came across a Facebook ad for the Tuttle Twins books, and my kids are SO happy I bought them!"
"My son doesn't like to read, but he devours these books over and over again. Kudos to Connor and his team for finding the secret sauce to get my son interested in learning."
"Forget 5-11 year olds… when I read these books to my kids I learned all sorts of stuff nobody ever taught me. Now my kids and I have some awesome discussions together!"
"I hoped to find books like these. My frustration finally ended when I came across a Facebook ad for the Tuttle Twins books, and my kids are SO happy I bought them!"
"I think my kids now understand more about how the free market works than most of Congress… these books need to be read by everyone, ASAP!"
OVER 1.5 MILLION COPIES SOLD!
A set of beautiful, enjoyable books that use storytelling to help you introduce important economic, civic, and social principles to your child.
What Makes Our Books So Different?
When it comes to teaching their children about the enduring principles of freedom, many parents don't know where to start. The Tuttle Twins series helps you introduce these ideas to your children and have meaningful family discussions about them.
As a father, I know how hard it is to communicate big ideas to little kids. For example, how do you teach an eight-year-old boy about the free market in a way that will be relevant to him? How can a six-year-old girl understand property rights? How can your child learn about and remember the golden rule?
And more than getting them to learn about the ideas… how do you get them to actually care about them?
As the founder and president of two non-profits, and the author of 17 books, I've spent years trying to figure out simple and effective ways of teaching other people important principles. Along the way I came to realize something: kids can understand these ideas, too.
And so the Tuttle Twins books were born! These totally unique books help kids age 5-11 learn important truths and develop crucial critical thinking skills. 150,000+ families just like yours have benefitted from the clear messages and fun stories in these books.
More importantly, these families have been able to have some amazing conversations about big ideas—even with their little children. Get the books today and watch your child develop important critical thinking skills and insight about ideas that most adults don't even understand.
Buy our 11 books at a discount and we'll include all of our PDF activity workbooks, FREE! ($55 value)
Each PDF activity workbook contains age-appropriate projects that help your child continue learning the lessons from the book.
What are individual rights?
In a fun adventure that involves pirates and plunder, Ethan and Emily learn about law, liberty, and limited government. Unlike any other book, this story helps children learn what individual rights are and how true laws help protect them from bad guys.
Why are free markets important?
Ethan and Emily have taken for granted the many things they use: clothes, cars, homes, backpacks—even something as simple as a pencil. On their trip to an amazing factory, the twins learn about the miracle and importance of the free market.
Teaming up with their food truck friends, the twins discover laws that create unfair advantages and protectionist policies. Ethan and Emily learn about competition as they launch a campaign to win public support and overturn the bad regulations.
Does the "golden rule" work?
Summer camp turns into a heated rivalry between competing teams, but Chief Ron helps the twins and their teammates learn the dangers of aggression, revenge, and blowback—and why peace and friendship are important principles!
In a world where dystopian fiction might seem too close to reality, Ethan and Emily learn that the fate of the future depends on thinking of ways we can work together peacefully, to build a better society without relying on coercion and the state.
After making some money, the twins decide to loan it out to other kids like them in order to earn some interest—and in the process learn about risk, bailouts, subsidies, and what happens when their children's market gets messed up.
Can a child be an entrepreneur?
The twins recognize an opportunity and, with the support of family and friends, navigate the exciting and tiring world of entrepreneurship! Your kids will learn the ins and outs of becoming a business owner in this inspiring installment in the series!
The twins learn all about bartering, inflation, and money as they uncover the mystery of how a powerful creature is stealing their grandparents' hard-earned savings, and how they can fight back to protect the money they make in their family business!
Should the collective control us?
Unintended consequences abound as the Tuttles uncover why the new Surfdom resort is causing their favorite beach to lose public interest. Uncle Ben joins the twins to help shine some light on the collectivist and central planning problems.
Why is socialism so harmful?
In a world filled with consumers, what happens if the producers give up and leave? And how can people better practice personal responsibility and not have a sense of entitlement about the things they think they deserve? Join Ethan and Emily to find out!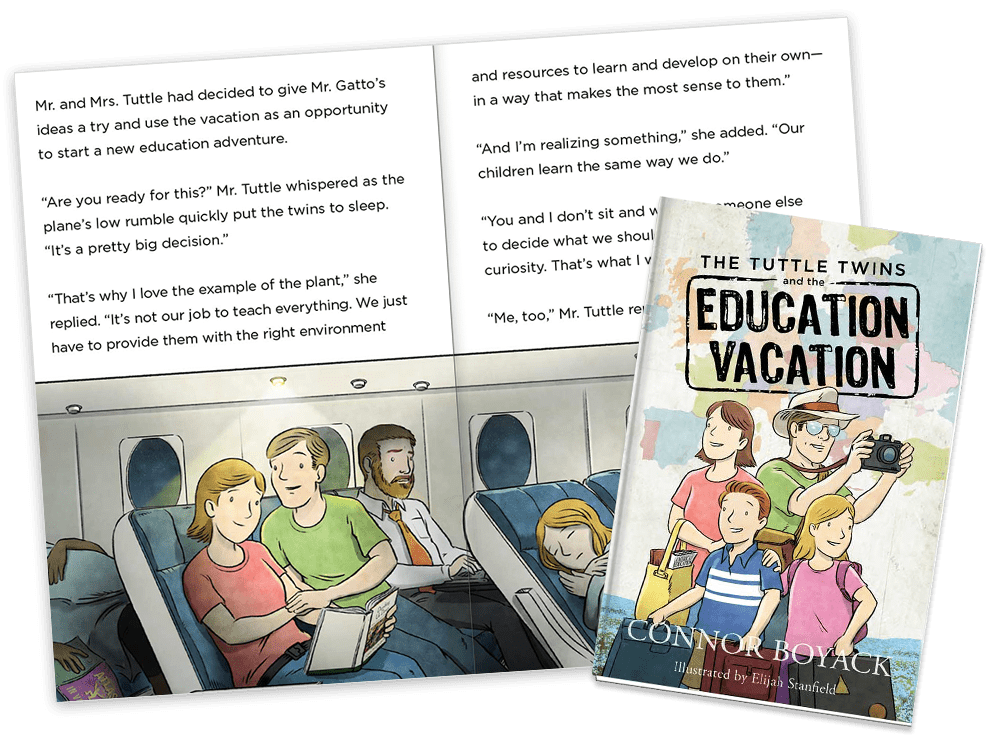 After hearing award-winning teacher John Taylor Gatto discuss some problems with schooling and share a vision for how children are best educated, the Tuttle family decides to embark on a new learning adventure to discover true education.
100% Unconditional Money Back Guarantee
Don't like the books? We'll refund your money and you keep them. No questions asked. No risk on your end.
Help the children in your life learn these important ideas by purchasing the books now.
Over 250,000 families have already bought the books for their kids.
Can you guess how many families didn't like them and demanded a refund? Nine.
Needless to say, our young readers love these books!
Worried that you're not sure you'll love them? No problem! The risk is all on our end.
If you don't like them, keep the books and I will immediately refund your money.
Yes — I'm THAT confident your family will benefit from these books.
No questions asked. No hassle.
And with that guarantee, there's no reason to not get these books for your kids.
You've got nothing at all to lose. So give your children a foundation of freedom today!
In liberty,